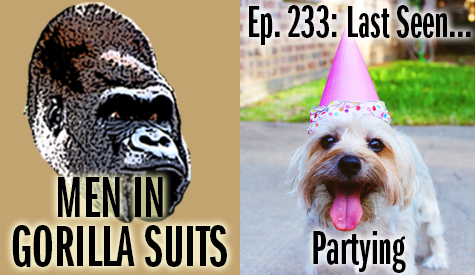 We suppose a party should be held in February, to celebrate the five-year anniversary of the podcast. (Okay, so we really are fine without a party…but you'll see where we're going with this…)
[Many] people love parties — and many others do not. We devote this week's show to where we stand on the whole party thing…
* * *
First, we go back in time…to the first party we remember attending. (We tell you all about them.) And, also…we tell us about the last parties we've attended!
After that, find out if we are party people! Then: whether we're party people (or not)…we chat about the craziest parties we've ever attended.
Find out if we even like parties…and what the best party or gathering we've ever attended was — as well as the worst!
We devote some time to birthday party memories…and then talk about if we're good at putting together parties.
Find out if parties are even important to us…and why we think parties are important to others.
And we wrap it all up with this: if we could throw the best parties ever (on our terms), what would they be like?
As always, party it all up in the comments section if that's your kind of thing…
Podcast: Play in new window | Download